EYE EXAMS
IN NAPLES, BONITA SPRINGS, & FORT MYERS, FL
When was your last eye exam? At All Saints Eye Center, we can't stress enough how important regular eye exams are to maintain good eye health. Not only are eye exams necessary to determine the need for vision correction (e.g., prescription eyeglasses, contact lenses, LASIK), they are also important in detecting eye conditions. And the earlier we can detect and diagnose an eye condition, the sooner we can treat it.
As a full-service eye care practice, All Saints Eye Center offers regular and comprehensive eye exams for patients in Naples, FL, and the surrounding South Florida areas. We invite you to stay on top of your and your family's eye health by scheduling an eye exam with us today.
WHEN TO SCHEDULE AN EYE EXAM
Individuals with good eye health should have a regular eye exam at the following ages:
6 months of age for infants
Age 3 and then again 5 or 6 for young children
Every two years for grade-school children and teenagers
Every two years for adults ages 18 to 60
Once a year for adults age 61 and older
Once a year or as recommended for children and adults who wear prescription eyewear
Individuals with eye diseases and certain health conditions (e.g., diabetes), as well as those who are at increased risk for developing eye diseases and disorders, may need to schedule eye exams more frequently than what the above guidelines suggest. Your eye doctor can determine how often you should have an eye exam based on your health history, eye health and other factors.
WHAT TO EXPECT DURING YOUR NAPLES EYE EXAM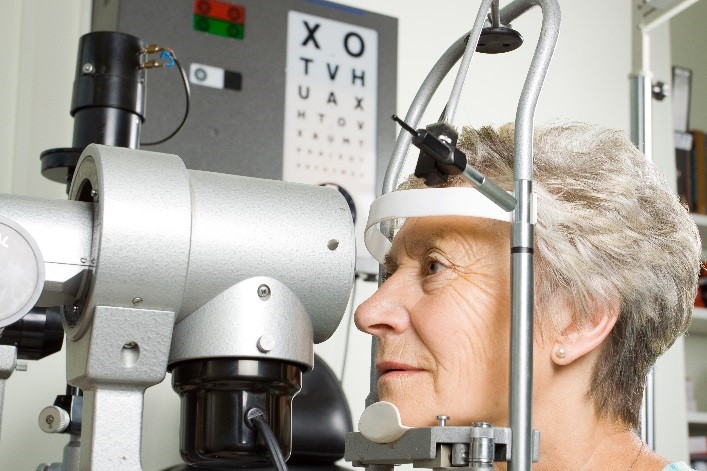 A routine eye exam involves a series of tests to evaluate your vision and eye health. These exams are painless and can be completed in a matter of minutes in our office. Comprehensive eye exams involve many of the same tests used during a regular eye exam well as additional tests to get a more in-depth assessment of your eye health. When you come into our office, our team will determine which tests to administer and whether you are in need of a routine eye exam or a comprehensive eye exam depending on your age, family history, eye health and other factors. Eye exams can consist of the following tests:
Visual acuity test to measure how sharp your vision is
Cover test to see how your eyes work together
Color blind test to detect color-related vision deficiencies
Slit lamp to give the doctor a 3D view of the front of your eyes (cornea, eyelids, iris and lens)
Air puff test to measure the pressure inside of the eyes
Pupil dilation so the doctor can evaluate your eyes' internal structures
SCHEDULE YOUR EYE EXAM TODAY
At All Saints Eye Center, your vision and wellbeing are top priorities for us. If you or your family are due for an eye exam or are experiencing any vision problems, please schedule an appointment with us. To schedule an eye exam in South Fort Myers, Bonita Springs, Fort Myers, South Naples or North Naples, contact the nearest of our South Florida eye care locations to speak to a member of our team today.