All Saints Eye Center accepts CareCredit, a leading healthcare financing program. Begin your LASIK procedure now and pay for it over time so it fits within your monthly budget. Check out our payment calculator and learn how to qualify for CareCredit.
LASIK IN NAPLES, FL, BONITA SPRINGS & FORT MYERS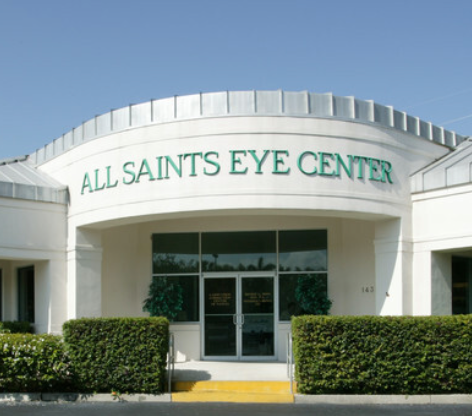 At All Saints Eye Center, we are committed to providing you with the safest and most innovative treatments to enjoy crisp and clear eyesight. Our team of qualified ophthalmologists are proven experts in laser vision correction, including LASIK surgery.
By combining years of experience with the latest advances, All Saints Eye Center can help you restore your ability to see clearly without glasses or contacts, all while improving your quality of life. Schedule an appointment online or call the LASIK Coordinator at (239)-592-5511.
ALL SAINTS EYE CENTER HAS 30 YEARS OF EXPERIENCE DELIVERING EXCELLENCE IN EYE CARE IN SOUTHWEST FLORIDA
LASIK is a quick and virtually painless procedure, and the most popular laser eye surgery option for treating common refractive errors like nearsightedness, farsightedness and astigmatism.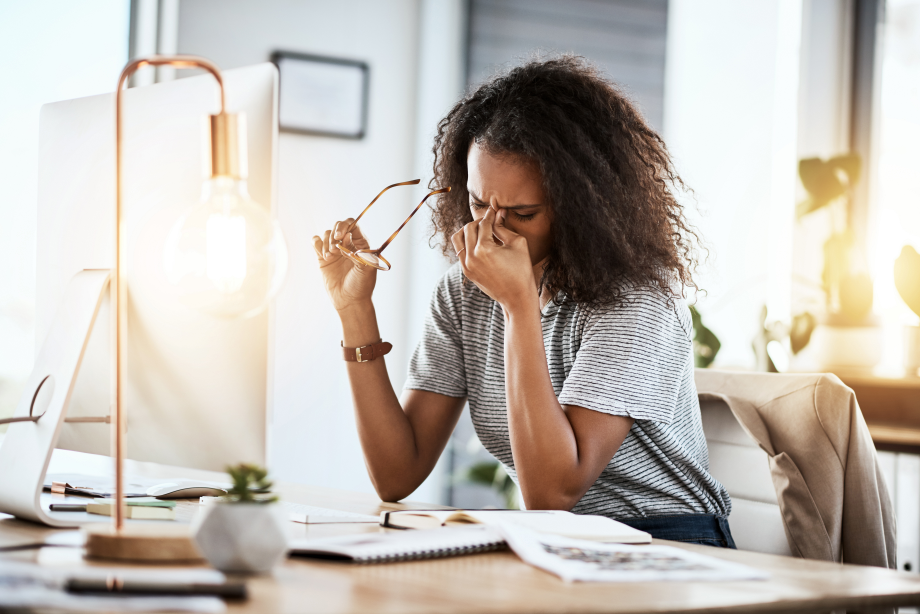 AM I A CANDIDATE FOR LASIK?
You may be a suitable candidate for LASIK if you meet the following requirements:
You must have healthy eyes, and be at least 18 years old to undergo the procedure for nearsightedness.
You must be 21 years of age or older for the farsightedness or astigmatism procedures.
Your vision must be stable for at least 1 year before the laser procedure. You have had a stable vision prescription for at least one year
Have good eye health
Are in good overall health
You are not a good candidate if you have degenerative or autoimmune diseases, if you are pregnant or nursing, or if you have a condition that deters or slows healingT
To determine candidacy, our team will meet with you and conduct a comprehensive eye exam to determine your vision stability, corneal thickness and eye health. If you are not a candidate for LASIK, we can recommend an alternative treatment option that addresses your vision needs.
NOT A CANDIDATE FOR LASIK?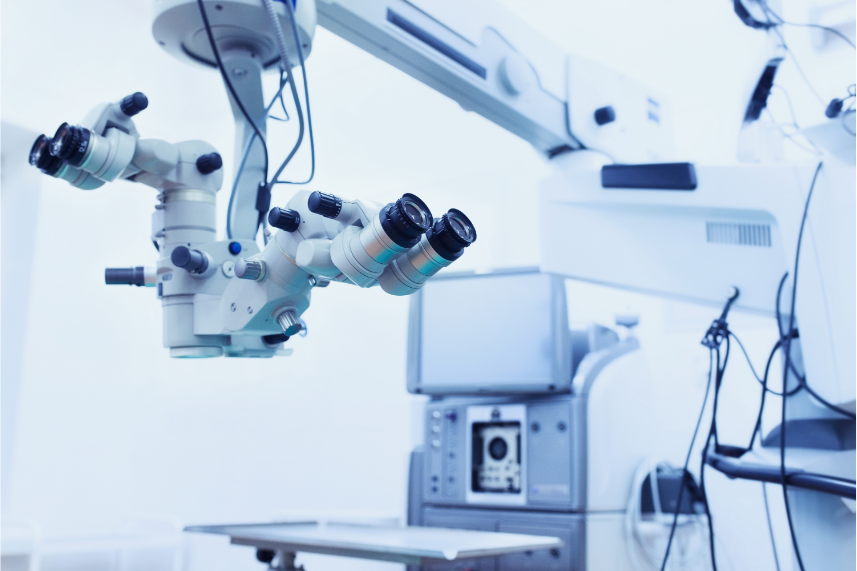 If you're not a candidate for LASIK, there are other excellent laser vision correction alternatives such as Photorefractive Keraectomy, or PRK. In addition, a clear or refractive lens exchange can be performed for these patients desiring clear vision for the far, intermediate and near ranges. The doctors at All Saints Eye Center recommend scheduling your LASIK Consultation to find out if you qualify for either vision correction surgery. Schedule your consultation now!
Thousands of our patients have enjoyed the benefits of LASIK surgery. With LASIK you can:
Achieve quick and painless results
Enjoy outdoor sports and activities (e.g., swimming, baseball, basketball) without pesky glasses
Avoid the lifetime costs associated with prescription glasses and contact lenses Look and feel your best without glasses!
PREPARING FOR LASIK SURGERY
Prior to your surgery day, our team will provide you with detailed pre-op instructions. Here are basic guidelines you will need to follow:
Read all materials we give you ahead of time. If you have any questions, please contact our office.
Stop wearing soft contact lenses two weeks before surgery to allow your vision to stabilize. Rigid gas permeable (GP) contact lenses need to be removed three to four weeks prior to surgery.
Arrange for a loved one to drive you to and from surgery, as well as to the surgery center the next day for your follow-up appointment.
The night before surgery, remove all eye makeup (e.g., mascara, eyeliner, etc.), lotions and creams from the area around your eyes. Use artificial tears to flush out debris from your eyes.
The morning of surgery, do not apply makeup or face lotions of any kind. Unless told otherwise by your surgeon, continue to take medications as normal.
LASIK is a safe procedure that can be completed in our office in approximately 15 minutes. We do our utmost to make the procedure as painless and comfortable as possible. To begin, we will apply a topical anesthetic to the eyes. Once the eyes are numbed, a thin flap will be created to access the cornea. The flap is folded back and an excimer laser is used to reshape the cornea. Once complete, the flap is closed back over the cornea so it can naturally heal. No sutures are needed.
Immediately after the procedure, you will need to have someone drive you home. There is minimal downtime with LASIK; most patients are able to return to work the following day. You can expect to begin seeing results in less than 24 hours. Our team will schedule a follow-up visit with you to monitor your vision.
As with any laser vision correction procedure, there are risks involved. Rare but possible side effects include infection, dry eye and glare. Complications are rare and occur in less than 1 percent of surgeries.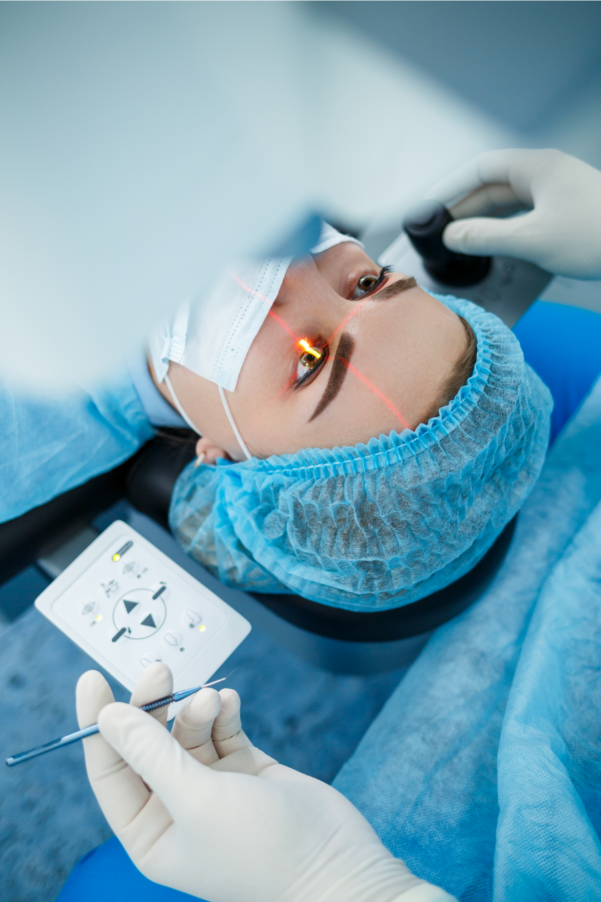 WHAT IS IDESIGN TECHNOLOGY?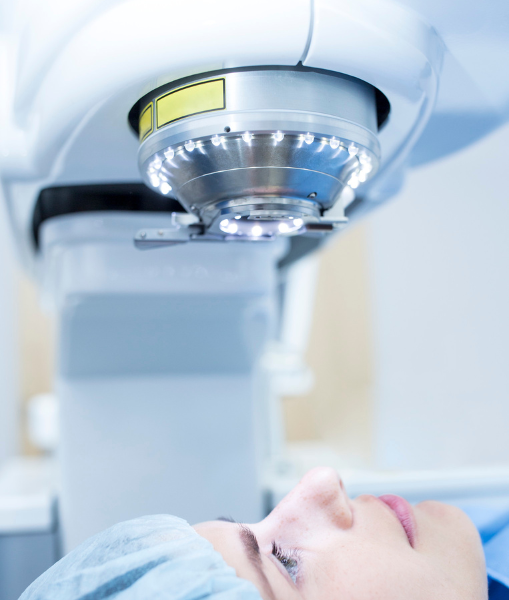 LASIK is a procedure that is absolutely dependent on cutting edge technology. LASIK surgery has come a very long way since its inception. Researchers and engineers have been hard at work perfecting the machines that assist surgeons during LASIK surgery. Today, LASIK is safer, quicker, and more effective than ever. What do we have to thank? Technologies like the iDesign Advanced WaveScan Studio System.
All Saints Eye Center is dedicated to staying up-to-date on the current technology so we can always provide our patients with the best surgical outcomes possible. Custom LASIK surgery is quickly becoming the standard in the world of laser vision correction surgery. That's why we use the STAR IR Excimer Laser System and iDesign Advanced WaveScan Studio System – basically the dream team of Custom LASIK.
What Makes LASIK Surgery "Custom"?
In the past, LASIK surgeons relied on eyeglass prescription information to determine which areas of the cornea needed reshaping. However, your prescription doesn't tell the whole story. In order to achieve a truly custom LASIK procedure, your surgeon needs a detailed map of the surface of the cornea, as well as information on how well your cornea and lens refract light.
Customizing your LASIK surgery means tailoring the surgery to suit your specific vision needs – not just leaving it up to an educated guess. At the very pinnacle of modern custom LASIK technology is the iDesign system.
What Is the iDesign System?
The iDesign system utilizes wavefront aberrometry to create an entirely custom map of your cornea. The iDesign system scans your cornea to provide information on both your "lower order aberrations" (which make up 90% of your visual imperfections such as myopia, hyperopia and astigmatism) and your "higher order aberrations" (the last 10% of you visual imperfections that cause problems such as halos, glare and poor night vision). This means that your surgeon has the full spectrum of your visual imperfections, not just the lower order aberrations that your prescription provides.
There are many different machines that allow for wavefront-guided LASIK, but iDesign is among the best. This is because the iDesign system collects over 1,200 data points, which is significantly more than some other wavefront systems. This makes iDesign 25 times more accurate than normal measurements for standard prescriptions.
After your surgeon uses iDesign technology to create this detailed map, the information integrates seamlessly into the STAR IR Excimer Laser System – which is the laser that does the corneal reshaping. Because the excimer laser has been programmed with your corneal information in mind, it knows exactly where and how to adjust the shape of the cornea for the best visual outcome.
Your eyes are completely unique to you. Tiny little imperfections in your cornea create your own distinct visual problems, and all of those abnormalities are impossible to detect without this special equipment. A more accurate system means less risk involved, less recovery time after the surgery, and more time seeing life the way it's meant to be seen.
If you'd like to know more about how our iDesign system can help you reclaim your vision, don't wait. Schedule your LASIK consultation with All Saints Eye Center today!
Vision usually improves immediately after treatment for most patients, although it's normal that some patients may experience small visual changes during the first several months.
Contact All Saints Eye Center Today & Schedule a LASIK Consultation
Why wait any longer for clearer vision? Schedule a one-on-one consultation for LASIK in Fort Myers, Bonita Springs, or Naples, FL with the All Saints Eye Center. Please contact one of our five South Florida locations to speak to a member of our team today.