Dr. Haji specializes in the diagnosis and treatment of vitreo-retinal disorders and has years of experience in private practice.  
He has authored and co-authored 13 papers in peer review journals, including the Archives of Ophthalmology and presented over 30 topics at major national and international meetings.  Dr. Haji co-authored a chapter in "The Glaucoma Book: A Practical, Evidence Based Approach to Patient Care".  Dr. Haji says "The field of retinal diseases is evolving quickly.  I strive to keep up with the cutting edge technology so that I can provide the best care possible to my patients."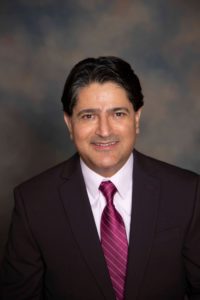 Outside of medicine, his hobbies include sports such as golf, soccer, ping-pong and tennis.  Dr. Haji enjoys international travel.

Special Fellowship Training
Vitreo-retinal diseases – University of Florida College of Medicine, Jacksonville, Florida
UMKC School of Medicine, Kansas City, Missouri
New York Presbyterian Hospital, New York, New York
Government Medical College, Srinagar, Kashmir University, India
Dr. Haji is certified by the American Board of Ophthalmology and is a member of the American Academy of Ophthalmology as well as numerous other professional associations and organizations.